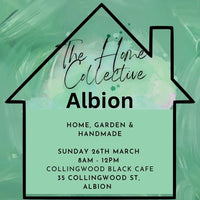 Our 1st Albion Market Will be Sunday 26th March from 8am - 12pm
THE HOME COLLECTIVE 
You guys asked for it and we listened, we are opening a second venue this year at Albion.
The Home Collective is one of Brisbane's most enjoyable markets for artisan's showcasing the best of the best for everything Home, Garden and Handmade Related.
The Albion market will have 35+ creatives with everything for your home and garden at the Collingwood Black Espresso Cafe - 35 Collingwood St, Albion.
Catch local live music as well as delicious coffee and food stalls.
Parking: There is free parking available at the venue and on the surrounding streets.

We love this market, it's one of our favourite to attend as it's got such a nice community spirit about it. 

Linda
I love the variety of different stall holders and everyone is so friendly. I love styling my home after being here

Tim S
It's so nice to support small businesses and take home a quality product that someone has made themselves with such professional finishes. I love styling my home after being here

Katie J